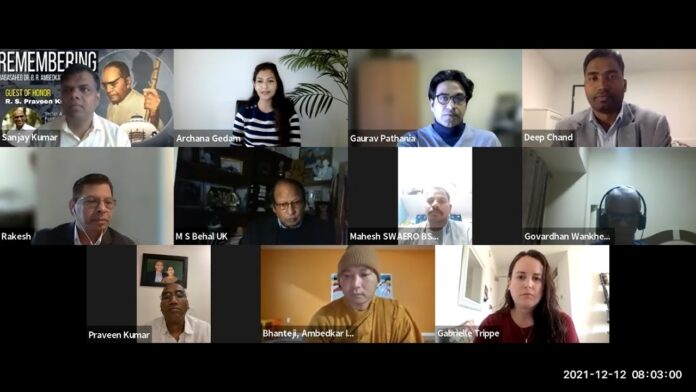 Ambedkar International Center(AIC), a Washington DC,USA based organization ,
celebrated Mahaparinirvan Diwas (an event remembering Babasaheb and his legacy) on 12th December 2021. The event were kicked off by the Chief Guest of the event, Dr RS Praveen Kumar , Additional DGP (retired) , who paid rich tributes to Dr Ambedkar and at the same time urged our educated classes to take active participation in community service and political education, with a long term goal and strategy.
Link to the recording: https://youtu.be/ee5B3KZs8tQ
As part of the event , AIC also recognized and declared winners of the AIC's "Authors Labs" initiative.
The names of the winners of the Authors Lab 2021 are :
1. Bharat Rathod
2. Sweta
3. Enakshi Biswas

Many Congratulations to all winners.
AIC also started a movement to enroll new members into AIC as part of AIC's Global Connect initiative. The event was hosted by Archana G, AIC board member and Gaurav Pathania, AIC member. The event was also addressed by Sanjay Kumar ,President, AIC and also Mahesh G, Board Member AIC, who brought to light the achievements of Dr Ambedkar. Rakesh G, Vice President AIC, proposed the vote of thanks. The event was attended by over 150 participants , from USA, UK, India, Canada and was conducted virtually over zoom.
Be Part of AIC Global Connect: https://ambedkarinternationalcenter.org/join-the-mission/aic-global-connect/