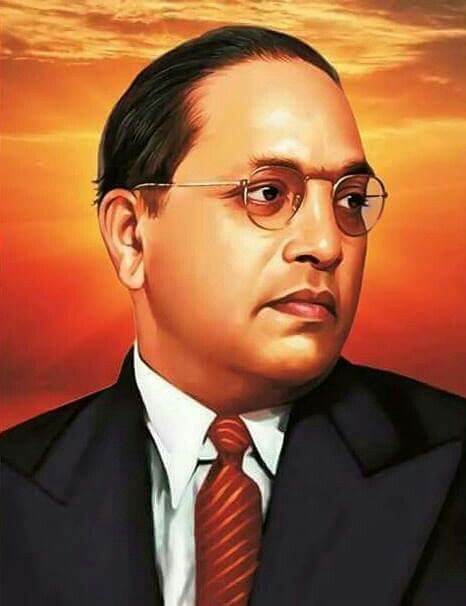 Dr. Babasaheb Ambedkar, a veritable phenomenon, intellectual giant, multifaceted erudite scholar, first Indian to pursue doctorate in economics abroad, had acquired qualifications that surpassed the multiple M.A., multiple Ph.D., M.Sc. (Econ), D.Sc. (Econ), Barrister-at-law from world's top and renowned universities in his early 30s. At such a young age, he had been through a real life educational experience that has not even managed by any contemporary renowned scholar in any part of the world; almost impossible for any common man to acquire in their lifetime.
Many great man of the world suffered from numerous disabilities and hardships but Dr. Ambedkar suffered from the most inhuman disability namely stigma of "untouchability"due to his birth in the most oppressed and exploited people of the world.Untouchable's condition were hellish; completely tyrannized, insulted, disregarded from thousands of years. It's hard to elaborate on the agonies, indignities, humiliation and overall sufferings of the untouchables. Millions of untouchables were suffering through such inhuman, discriminatory behavior being practiced in Indian society. Words would fall short to describe Dr. Ambedkar's journey of coming from such a lowest rung of the exploited society to becoming greatest incomparable scholar in the world. He was rightly called the symbol of revolt as he revolted against untouchability alone and emancipated millions of untouchables without shedding the single drop of blood. Some calls him a luminous star in the galaxy of great man; whereas majority calls him as a Sun who is almost incomparable with anyone.
In his early 20s Dr. Ambedkar took the mantle of revolting against the social discrimination and inhuman stigma of untouchability practiced in India.A leader without a paper is like a bird without a wing. Being an eminent writer, vociferous orator and fearless journalist along with his encyclopedic knowledge and wisdom, with time he continued to change the course of actions for eradicating untouchability by starting his own newspaper media Mooknayak (The Leader of the Dumb,1920), Brahishkrut Bharat (India Ostracized,1927), Janata(The People,1930) and Prabudhha Bharat (EnlightenIndia,1956) to spread his revolutionary ideas, thoughts and voice to the Indian society.
Dr.Ambedkar not only fought for untouchables rights and raised them to humanity but also worked for betterment of all backward and oppressed communities.The vintage position as a member of Bombay Legislative Council (1926-34)enabled him to sponsor several bills for the welfare of the Indian communities overall despite of having British rulers. This has helped him to get official nomination to attend three round table conferences (1930-33) and seek justice to all oppressed communities of India by demanding "Communal Awards".
To abolish the graded inequalities and protecting the human rights of labor classes, he founded Independent labor party in 1936. He put forward legislation to implement "State Sponsored Industrialization" and provided strong labor laws to protect factory workers, remunerative wages, to fix maximum hours of work, leave with pay and a sanitary dwelling at reasonable amount.He also advocated for abolition of the feudal land holding system, extensive program for the improvement of educational facility in technical institute, and equal opportunity to all Indians in industries.He then initiated the movement for Population control and family planning as part of ILP's manifesto. He was in the opinion that controlling nation's economy is impossible if the population is not controlled.
India's central banking institution –Reserve Bank of India (RBI) which controls the monetary policy of the Indian rupee and plays an important part in the development strategy of the government of India has been conceptualized as per the guidelines, working style and outlook presented by none other than great economist Dr.Ambedkar in front of the Hilton Young Commission in 1935. This commission came to India under the name of "Royal Commission on Indian Currency & Finance" and every member of this commission were holding Dr.Ambedkar's book "The Problem of the Rupee –Its origin and its solution."His economic policies which have saved India even in the times of great Economic Depressions.He suggested free economy, globalization, liberalization and privation to stabilize the Rupee and control the economic growth back in 1923.The original source of reference for all the 13 Finance Commission reports, are based on Dr. Ambedkar's Ph.D. thesis, "The Evolution of Provincial Finance in British India".
Dr. Ambedkar; a visionary backed up with multi-dimensional enormous knowledge and wisdom laid down the foundation to build great nation well in advance.
Labor Department under the guidance of Dr.Ambedkar in 1942, who decided to establish "Central Technical Power Board" (CTPB) for power system development, hydro power station sites, hydro-electric surveys, analyzing problems of electricity generation and thermal power station investigation along with usage of Atomic energy for controlling river flood.He outline the infrastructural design and led the establishment of the Damodar Valley project, Hirakud project and Sone river project.Dr.Ambedkar emphasized on the significance and need for the "Grid System", which is still working successfully even today based on his thoughts and ideas.

Dr. Ambedkar enacted many labor laws; Indian Trade Union Act, Industrial Disputes Act, Compensation, Working Hours, Equal pay for equal work irrespective of the gender and Maternity Benefit, women and child labor protection are the main. He banned working of women in deep mines ignoring opposition from the British.

Dr. Ambedkar was of the firm opinion that unemployment, poverty and shortage of consumer goods cannot be removed without industrialization of India. According to him creating large scale employment produces essential goods for mass consumption. It utilizes raw materials, reduces foreign dependence and increasing security to labor, and ultimately leads to the overall economic development of the country.

Dr. Ambedkar demanded the nationalization of the natural resources like water, gas, land and insurance, transportation etc. This is the utmost important part for developing the nation without locking the nation's future in few individual's hands. Due to privatization if the natural resources goes into private locker of industrialist then labor, poor class of India will suffer. He has foreseen this demand almost 100 years ago.

To abolish tyranny for social status of Hindu women and uplift them for the equality Dr. Ambedkar drafted various new law acts (property inheritance, divorce rules, minority and guardianship, adoption and maintenance) under "Hindu Code Bill" and presented as the first law minister of independent India. This shows his love for the building nation as a whole by providing equal opportunity to everyone.

After the end of 2ndworld war there were many challenges for India, such as re-establishment of economy, improvement in agriculture, development of industries, rehabilitation and re-deployment of defense services etc.; those had been handled and led by Dr. Ambedkar through Reconstruction Committee of Council (RCC).

Dr. Ambedkar was instrumental in establishment of National Employment Exchange in provincial government of British India after the end of 2nd world war and also the tripartite mechanism of settling labor issues through trade unions,skill development initiative in the government sector. He bought "Insurance Act" in India as the first nation among the East Asian countries.

Even today Dr. Ambedkar's "Thoughts on Linguistic States", written in December 1955 is much more relevant. This book gives what geographic knowledge a man could possess along with outlining populations, language consideration etc. and acts as a blue-print to form out smaller states for better governance and betterment of India as a Nation. Dr. Ambedkar envision to build the common harmonious culture across the nation through a single national language. He clearly explained the importance of having a single language and appeal all to put an efforts to adopt and develop Hindi as a common language.

Dr. Ambedkar loved to be a student till he breathed his last; during his entire lifetime one can see his deep passion about books. His personal library had more than 100,000 books gives rich testimony to his wide, varied and profound reading and knowledge he accumulated. There was no book in his library without notes supplied by him with pencil. He had distinguish authority on the subjects ranging from Sociology, Law, Economics, Politics, Theology, and Anthropology to History. His 100s of volumes of writing and speeches exhibits what a great towering personality India had which is not even possible in computer's era for any scholar to achieve that feet.

Dr. Ambedkar was fully convinced that the education is for liberation and for national development.He laid utmost stress on the expansion and promotion of education;founded "The People's Education Society" and established renowned colleges to promote the education among untouchables and other sections of the Indian society.
Before the independence of India; Dr. Ambedkar was honored and assigned the most responsible task of drafting the Constitution of free India which demanded enormous knowledge of law, geography, economics, politics, sociology and history of India.He wanted to establish the social democracy based on the principles of liberty, equality, and fraternity and for that he wanted to put state government mechanism to bring such radical change in Indian society than creating a social war and shedding bloods.As part of architecting India's constitution he imbibes these principles. Last but not the least,he has embraced Buddhism a greatest scientific humanitarian religion exists in the world on 14 October 1956which is based on the principles he inherited for the Indian's democracy. With all his character described above; he reached to the stature of Bodhisattva and became Bodhisattva Dr. B. R. Ambedkar.
Dr.Ambedkar's name and fame is spreading more and more day by day crossing all geographical barriers and racial impediments. In short dead Ambedkar is proving even more disturbing and dangerous than the living Ambedkar was to the orthodox, forces of reaction and the exploiters. India is only now beginning to discover him. The influence and the power he exercised on the minds of the people cannot be correctly assessed.
Compiled by: Ambedkar International Center Team, USA. https://ambedkarinternationalcenter.org