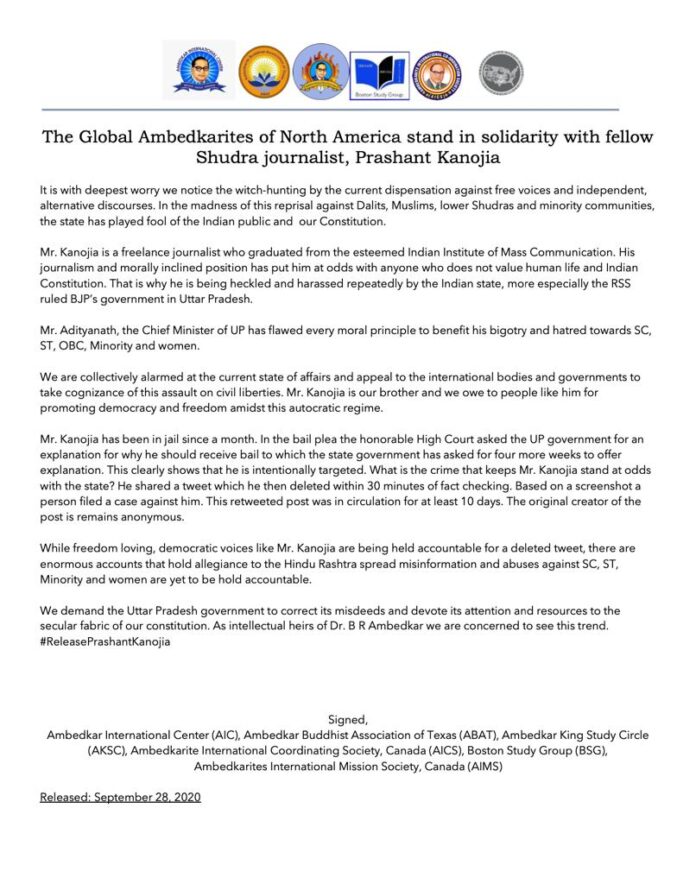 It is with deepest worry we notice the witch-hunting by the current dispensation against free voices and independent, alternative discourses. In the madness of this reprisal against Dalits, Muslims, lower Shudras and minority communities, the state has played fool of the Indian public and our Constitution.
Mr. Kanojia is a freelance journalist who graduated from the esteemed Indian Institute of Mass Communication. His journalism and morally inclined position has put him at odds with anyone who does not value human life and Indian Constitution. That is why he is being heckled and harassed repeatedly by the Indian state, more especially the RSS ruled BJP's government in Uttar Pradesh.
Mr. Adityanath, the Chief Minister of UP has flawed every moral principle to benefit his bigotry and hatred towards SC, ST, OBC, Minority and women.
We are collectively alarmed at the current state of affairs and appeal to the international bodies and governments to take cognizance of this assault on civil liberties. Mr. Kanojia is our brother and we owe to people like him for promoting democracy and freedom amidst this autocratic regime.
Mr. Kanojia has been in jail since a month. In the bail plea the honorable High Court asked the UP government for an explanation for why he should receive bail to which the state government has asked for four more weeks to offer explanation. This clearly shows that he is intentionally targeted. What is the crime that keeps Mr. Kanojia stand at odds with the state? He shared a tweet which he then deleted within 30 minutes of fact checking. Based on a screenshot a person filed a case against him. This retweeted post was in circulation for at least 10 days. The original creator of the post remains anonymous.
While freedom loving, democratic voices like Mr. Kanojia are being held accountable for a deleted tweet, there are enormous accounts that hold allegiance to the Hindu Rashtra spread misinformation and abuses against SC, ST, Minority and women are yet to be hold accountable.
We demand the Uttar Pradesh government to correct its misdeeds and devote its attention and resources to the secular fabric of our constitution. As intellectual heirs of Dr. B R Ambedkar we are concerned to see this trend.
#ReleasePrashantKanojia
Signed By,

Ambedkar International Center (AIC),
Ambedkar Buddhist Association of Texas (ABAT),
Ambedkar King Study Circle (AKSC),
Ambedkarite International Coordinating Society, Canada (AICS),
Boston Study Group (BSG),
Ambedkarites International Mission Society, Canada (AIMS)