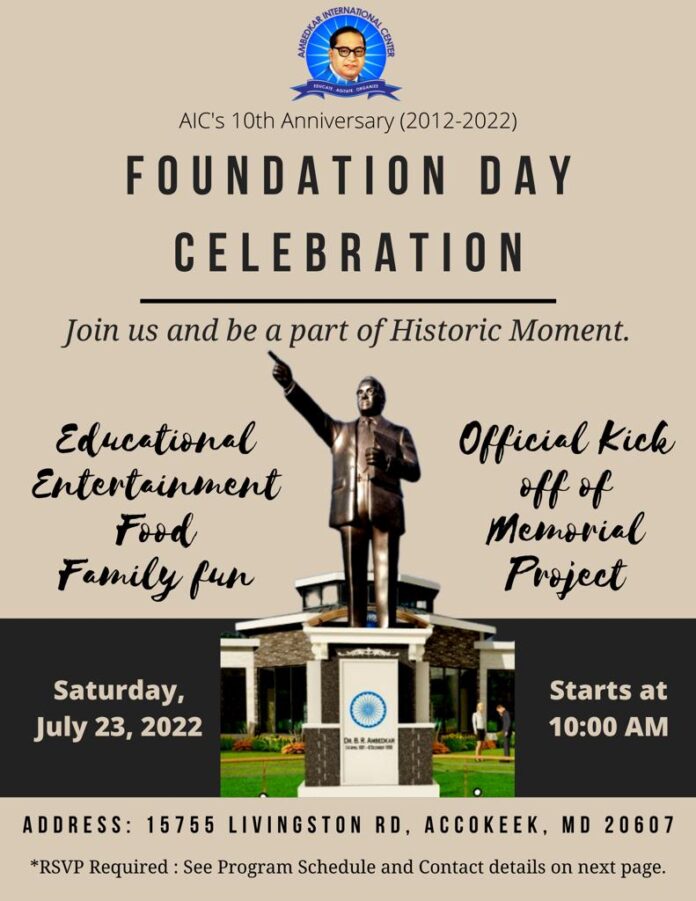 AIC to Celebrate 10th Anniversary on July 23, 2022
JaiBheem, Dear Brothers and Sisters in Ambedkar Mission,
Celebration of AIC foundation day is significantly important in the current situation that provides an incredible opportunity to look back and reflect on our journey as well as strategies collectively to ensure we drive the Ambedkar mission to see results in our lifetime and, same time bring our most awaited dream project – Dr. Ambedkar Memorial into a reality.
It is also the time to acknowledge those dedicated, passionate and selfless Ambedkarites from the US who came together, motivated each other and dreamt of having an Ambedkar International Center in the land of the US by buying 13 acres of land at prime location near Washington DC. To mark occasion of AIC 10th anniversary we are laying a foundation Brick brought from from Babasaheb's Birth place Mhow, Indore (India), and officially kicking off phase 1 of memorial project.
It gives us immense pleasure to host AIC foundation day with all committed Ambedkarites who tirelessly offer their precious time, money, efforts and wisdom to carry on AIC's mission.
Join us with your family and friends for a fun filled day and be a part of Historic Moment. RSVP is required. Email us if you have any question [email protected]
When: Saturday July 23, 2022
Time: 10:00AM – 4:30PM EST
Where: AIC 15755 Livingston Rd, Accokeek, MD 20607
RSVP : https://www.evite.com/event/00626F4NZSN2UAS5IEPM5S2P6AJWVQ
FLYER : link
Program Schedule:
10:00 – Breakfast/ Coffee hour and Bhante talk/ meditation on diversity/ inclusion
11:00 – Dr. Ambedkar and Fundamental Rights
11:20 – Influence of Baba Saheb on American soil
11:40 – Dr. Ambedkar on Economics/ Labor laws and women's rights
12:00 – Q/A with Speakers
12:30 – Lunch Break
01:30 – Ground breaking celebration
02:00 – Memorial Presentation
02:30 – Open Floor
04:00 – Vote of Thanks
04:30 – Disperse
NOTE: COVID Guidelines must be followed by all attendees