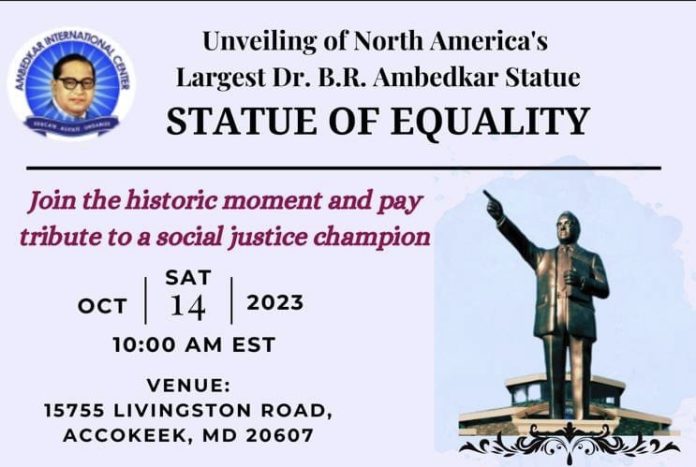 Unveiling of the Statue of Dr. B.R. Ambedkar – Statue or Equality in North America
MUST REGISTER TO ATTEND Unveiling of the Largest Statue of Dr. B.R. Ambedkar outside India Tickets, Sat, Oct 14, 2023 at 10:00 AM | Eventbrite
Join us on Saturday, October 14, 2023 at 10:00 AM as we commemorate a historic milestone – the unveiling of the largest statue of Dr. B.R. Ambedkar in North America. Statue is part of AIC first Upcoming Dr. Ambedkar Memeorial project of USA.
Located at 15755 Livingston Road, Accokeek, MD 20607 (just 21 miles away from White House, Washington DC), this momentous event will celebrate the life and legacy of Dr. B.R. Ambedkar, a visionary leader and champion of social justice.
Be a part of this inspiring occasion as we honor Dr. Ambedkar's contributions to equality, human rights, and empowerment. Witness the grand unveiling of the magnificent statue, a symbol of his enduring influence.
Immerse yourself in the vibrant atmosphere, surrounded by like-minded individuals passionate about social change. Engage in thought-provoking discussions, cultural performances, and pay homage to the great leader who dedicated his life to fighting injustice.
Don't miss this unique opportunity to be part of history. Mark your calendars and join us for the Unveiling of the Largest Statue of Dr. B.R. Ambedkar in North America – a celebration of progress, unity, and the indomitable spirit of Dr. B.R. Ambedkar!
Sculpturist : A renowned artist and sculptor Mr. Ram Sutar, recipient of India's Prestigious Padma Shree award (http://ramsutar.in/) who also built biggest Sardar Patel statue in Ahmadabad Gujrat has been selected to build our statue. Mr. Sutar has credit for creating many statues and sculptures in India, the USA, France, Argentina, Italy, Russia, and Malaysia. Mr. Sutar has made more than ninety monumental sculptures in the last sixty years. Statue is replica of world's largest 125 feet DR BR Ambedkar statue unveiled in Hyderabad recently unveiled.
Saturday, October 14 – Program Schedule:
10:00 am: Breakfast and Social Hour
11:00 am: Bhante Talk, Discussion on Global Ambedkar Movement and Honoring our Heroes
1:00 pm: Lunch
2:00 pm: Statue Unveiling
2:15 pm: Speeches by Guest of Honor, Distinguished Guests, and AIC President
5:30 pm: ends
Remember, the event is absolutely free, but donations are appreciated to cover expenses.
If you have any other questions or need further assistance, feel free to ask!
Volunteers needed (please signup)
https://www.signupgenius.com/go/10C084FAAA92BA4F5C52-aicdrbr