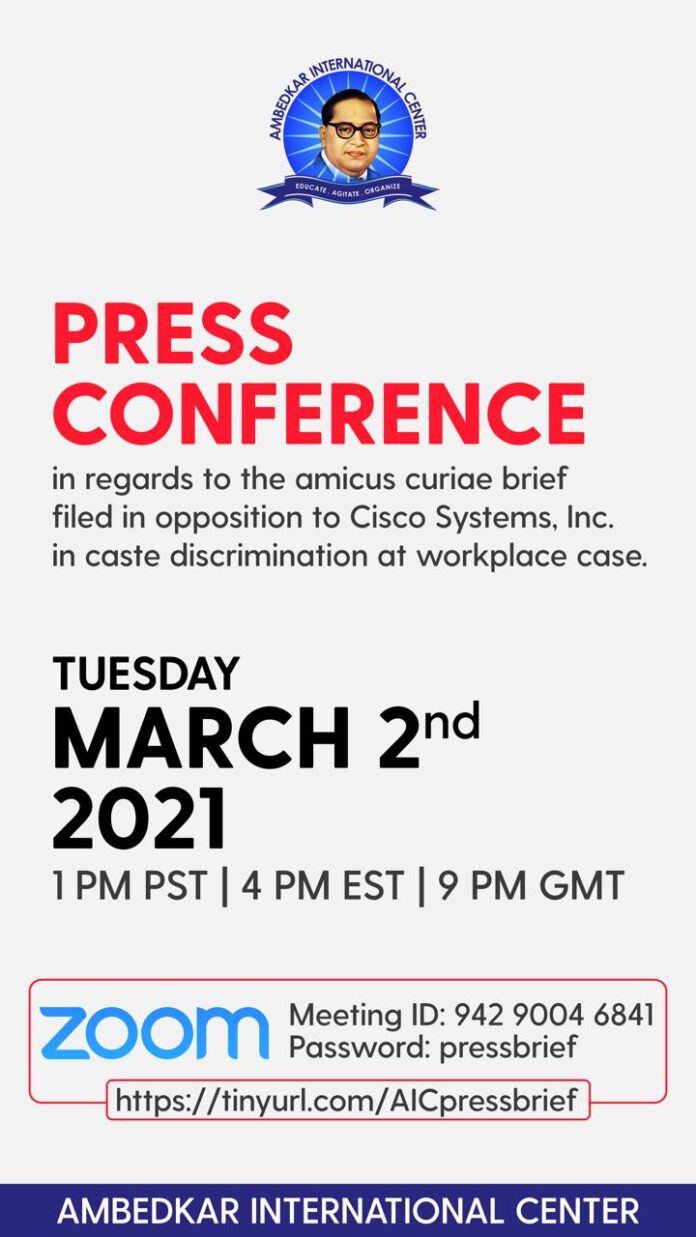 PRESS ADVISORY
CASTE ABOLITIONIST COMMUNITY ORGANIZATION ENTERS THE CISCO-CASTE DISCRIMINATION CASE
Ambedkar International Center Filed Amicus Brief In California Supreme Court
On Feb 24, 2021 Ambedkar International Center (AIC) Inc, a US based organization fighting against caste and ancestry based discriminations both in India and the United States, sought the permission of the California Supreme Court to be admitted as an amicus curiae in the DFEH vs Cisco Systems inc, Sundar Iyer and Ramana Kompella case of caste discrimination in the workplace.
Not only is the Cisco caste case a historic intervention against a previously unrecognized form of discrimination in the United States, but the entry of Dalit/Untouchable community organization as an amicus points to a determination within the community to take its place alongside other oppressed communities of America in seeking a more just and equal society.
This is a landmark case in which the State of California alleges that a major tech-industry employer has violated civil rights laws by discriminating against an Indian worker because he was born into the lowest Indian caste (untouchable).
The leadership of the Ambedkar International Center (AIC) Inc, Amicus brief endorsed organizations, its representing lawyers and other experts from renowned universities will address the press on the arguments presented in the brief and the importance of the case.
DATE & TIME: Tuesday March 2nd, 2021 | 1:00 PM PST | 4:00 PM EST | 9:00 PM UK ZOOM URL: https://tinyurl.com/AICpressBrief | ID: 942 9004 6841 | Passcode: pressbrief
For more information contact: