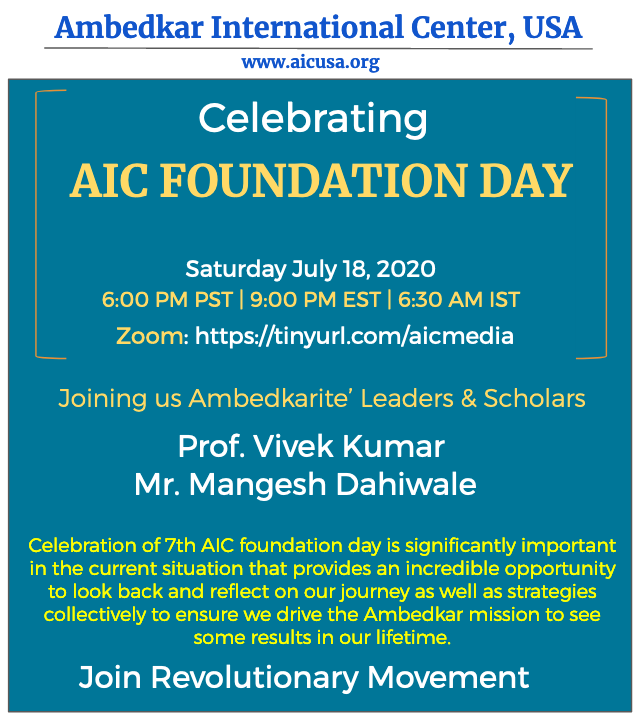 AIC Foundation Day Celebration – July 18, 2020
JaiBheem, Dear Brothers and Sisters in Dhamma,
Celebration of 7th AIC foundation day is significantly important in the current situation that provides an incredible opportunity to look back and reflect on our journey as well as strategies collectively to ensure we drive the Ambedkar mission to see results in our lifetime.
It is also the time to acknowledge those dedicated, passionate and selfless Ambedkarites from the US who came together, motivated each other and dreamt of having an Ambedkar International Center in the land of the US by buying 13 acres of land at prime location near Washington DC.
It gives great pleasure to host this AIC foundation day celebration with you all committed Ambedkarites who have selflessly, tirelessly contributing time, money, efforts and wisdom all the time to carry AIC on your shoulders.
As you all know the current situation based on CISCO discriminatory cases, it is highly important for us to come together, build the right strategy and stand together to drive Ambedkar Mission with more energy, efforts with dedication, determination and passion. Here everyone should feel they are the one who would be leading this institution and build the history to come for future generations. If we do not; then no one else would be.
Please join us with your family and friends to celebrate AIC Foundation day. It is full action-pack event !
Date: Saturday July 18, 2020
Time: 6:00 PM PST | 9:00 PM EST | 6:30 AM IST
ZOOM: https://tinyurl.com/aicmedia