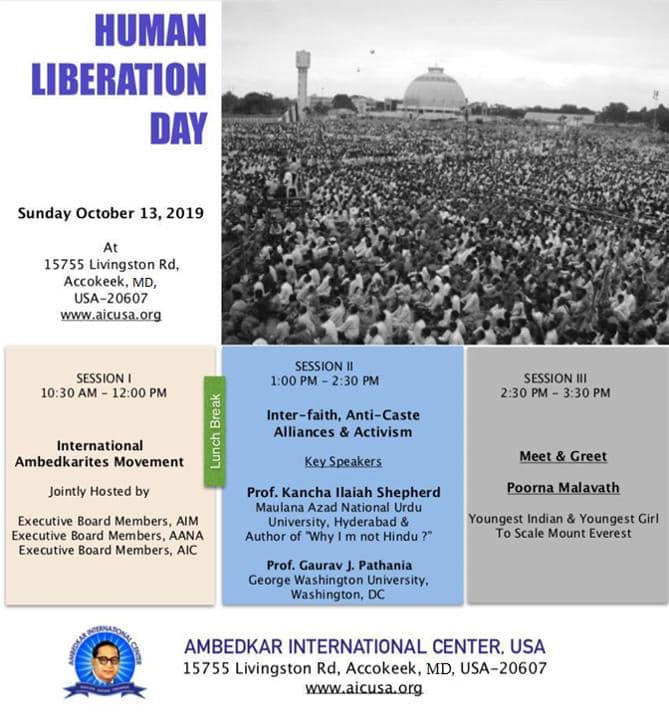 Take Human Liberation Mission Ahead !
As NRI Ambedkar'ites, it is imperative for us to unite as an Anti-Caste community to honor the historic legacy of Bodhisattva Dr. B. R. Ambedkar. Being part of a social awareness movement, we need to activate and expand our networks with grass-root activists to drive the International Ambedkar'ite Movement (IAM).
In this regard, Ambedkar International Center (AIC)is hosting an event on Sunday October 13th, to commemorate October 14th, the day in 1956 when Dr. B. R. Ambedkar liberated millions of Indians from an age-old brahmanical system of caste and patriarchy by adopting Buddhism. Let's pay homage to his struggle and take his carava ahead.
Dr. Ambedkar followers of North America celebrated Dhama Parivartan Day as Human Liberation day at Ambedkar International Center today. People for various faith and geographical locations joined to mark this historic days. Renowned literary Prof Kancha Ilaiah and Malavath Purna youngest Indian mountaineer who made record to climb Everest at age of 13, were special guests. They shared their experiences and answered participant in Question/answer session. At this occasion AIC remembered the legacy of V.K.Chaudhry whom we lost last year.