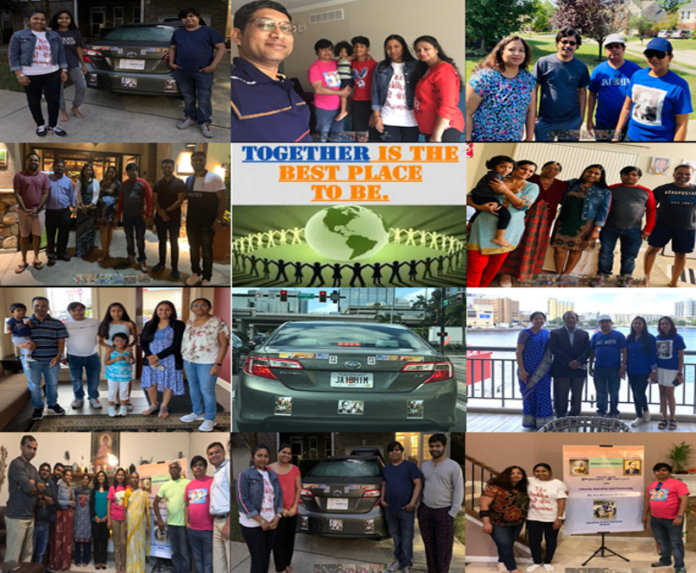 Motivated and driven by one of the action items of the successful get-together meeting held on 20th July 2019 at Ambedkar International Center, Ms. Arti and Mr. Sandeep planned for a Babasaheb Ambedkar Awareness Tour of East Coast of USA.
Objective: The objective of the tour was to drive around the East Coast for 10 days in Car and meet as many ambedkarites as possible.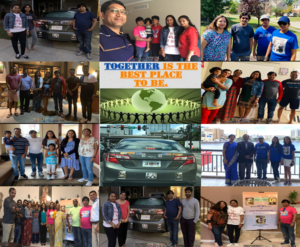 On Mission: The tour was started on 8th September 2019. It was a great start and we met many people during our tour. We had many inspiring discussions & meetings leading to action items that might bear fruits in the long run! It was a wonderful beginning! We started from Atlanta (GA) and drove to places like Louisville (KY), Union (KY), Nashville (TN), Chicago (IL), Detroit (MI), and Tampa (FL). We were on the road for more than 10 days and Ms. Arti did most of the driving of more than 2,500 miles. Some of the places initially planned were skipped due to some health issues faced by Sandeep and also due to taking more time at few places than originally planned. The time spent at Vijay's house in Kentucky, the dinner meeting in Chicago, the beautiful gardens of Vivek dada in Detroit and spending a whole day at Dr. Devaiah garu's penthouse and private beach in Clearwater, Florida were few of the high lights. It was amazing to hear about Dr. Devaiah & Dr. Rudramma Devi garu's journey from rags to riches in America and their daily commitment to pay back to society.
Thank you so much to Subodh and Aparnaji for their support during the tour, Manish and Archanaji for donating Banners & T-Shirts, Anil and Rashmi for their help! Thank you so much to all of the following families/individuals who gave warm welcome to us and spent a lot of time with us in spite of a few visits being during weekdays. Mahendra R, Mrunaliji and family, Vijay G, Anjuji and family, Nishikant R, Reenaji and family, Sandeep, Bipin, Shreyas, Anmol, Sushanth, Meghnaji and family, Vivek C, Krantiji and family, Mahesh W, Truptiji, Sandeep K, Rakesh, Anshul, Amruth & family, Raj S, Dr. Devaiah, Dr. Rudramma Deviji and all others we met during the trip and who shared contacts!
What we learned from the trip: It was great to see a lot of young people amongst ambedkarites of America. All are very passionate to do something Professionally, Personally and to Payback to society.
There is no work small or big. There is no one person big or small. We need all hands to come together to take forward Ambedkarite movement everywhere. Together we can! One for All and All for One is the Ambedkarite Way!
This is just the beginning: This tour is just the beginning! I am sure youth (UG, PG students, and fresh pass-outs) including my daughters will take up many more tours in similar lines in days to come. These can be planned in advance with many presentations/meetings planned at various Universities, Churches, Masjids, Gurudwaras, Viharas, and Community Centers, etc. Youth who are in between jobs or on study vacations can approach us with any similar plan they have. If the idea is great and budget is reasonable, funds can be raised for those, whose passion is to work for the Annihilation of Caste!
Plan is in progress to create a small group of multi-religious (Buddhists, Islam, Christian, Hindu, Sikh, etc) people who can travel from East Coast to West Coast conducting several meetings on the way using single platform to spread message of peace and unity by spreading awareness of Mahatma Phule / Shahu Maharaj / Babasaheb Ambedkar Ideology! Together is the best place to be! One for All and All for One is the Ambedkarite Way!