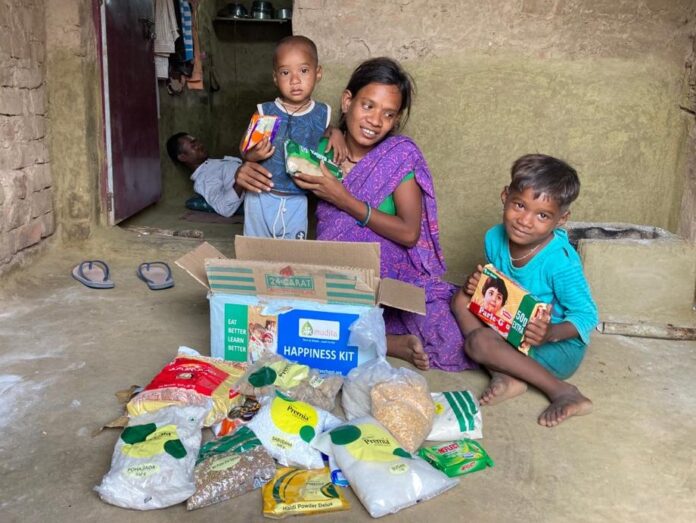 Project – "Covid Relief for Rural, Poor and Tribal Communities"
India has gone through very tough time in months of March and April, 2021 on account of devastation caused by the second wave of Corona Virus in the country. Many government and non-government organizations have tried very hard to provide whatever relief efforts they could in such situation, but it seemed measures were not enough. Consequent upon this, Ambedkar International Center ("AIC")
came to know about the relief efforts and learned that it was not reaching to very marginalized sections of the Indian society, along with this AIC had been also receiving a lot of requests for needed help.

It is then, AIC decided to launch Covid Relief Project with an objective of helping Rural, Poor and Tribal
communities which remained marginalized and vulnerable. In this effort, AIC is very grateful to all its
supporters and generous donors, as we raised about $40,000 within weeks and were able to help some
very needy people. A big thanks to our donors!
To implement this project, AIC partnered with many Non-Profit organizations in India, and they
energetically worked to fulfill the objectives of the project in timely manner. AIC says thanks to these
organizations.
Please find the project report below. This report highlights the Non-profit Organizations which
helped AIC and details their activities.
Esha Wellness Center & Foundation of his Sacred majesty, Pammal, Chennai, Tamil Nadu
Fund Transferred for O2 Pipeline
Handover two oxygen Concentrator
Bodhi-Path Multipurpose Social Organization Chandrapur, Maharashtra
Five O2 Concentrator donated to Public Health Centers
Note: Please watch these videos below to find out more
https://youtu.be/1AMmoXNBjDw
http://www.news34.in/2021/06/visit-of-oxygen-constructor-machine-by.html
Samyak Drishti Samith Bareilly, Utter Pradesh
Distribute Medical Kits, Covid Awareness and medical camps
Swasthya Swaraj Society, Odisha
Medical Kits and local rural medical camps and distributed medicines
Rural Health and Two Circle Inc/Net
Medical Kits and local rural medical camps to distributed medicines
AIC grant was disbursed in 4 states – Chhattisgarh, Jharkhand, Rajasthan, Orissa all in very remote
rural regions
The primary demographic served was indigenous/adivasi/tribal/ST communities
Be Educated Movement
Vaccine Awareness, Medical kits, Ration kits, O2 Concentrators. 1000 oximeters , 60
thermometers, 250 t-shirts, Vaccination Raffle
3 Villages in Guntur, AP
3 Villages in Vijayawada, AP
1 Village in Assam
1 Village in Rajasthan
2 slum area in Lucknow, UP
4 Villages in Gorakhpur UP
1 Slum area in Rajkot GJ1 Village in GJ
3 Villages in MP
2 Slum area in Dehradun UP
3 Villages in tribal belt of Sonebhadra, UP
3 Villages in T tribal belt of Chattisghar
2 Locations in Varanasi UP
Note: Please watch these videos below to find out more
https://youtu.be/cEcJ8BUK99E
https://beeducated.org/vaccination-awareness-program/
All India Samata Sainik Dal (AISSD) Nagpur
Dalit Association for Social and Human Rights Awareness, Patna, Bihar
Medical Kits and local rural medical camps to distributed medicines
Mudita Amravati, Maharashtra mudiatschool.org
Happiness Kits- Dry Ration distribution in Amravati District locations – Harisal, Pohara,
Bailorpur, Nandura, Kondeshwar, Khanapur,Tembrukheda , Rajura Anjangaon Bari , Chanduri
Dalit Adivasi Shakti Adhikar Manch – Manual Scavenging in Delhi Area
Distribution Medicine kits & dry ration to the 50 Plus sewer workers & 50 waste pickers families
in Delhi Slum area. The effort was to support the families for 3 months.
Note: Please visit the facebook page below to find out more
https://www.facebook.com/320620598811529/posts/909440159929567/