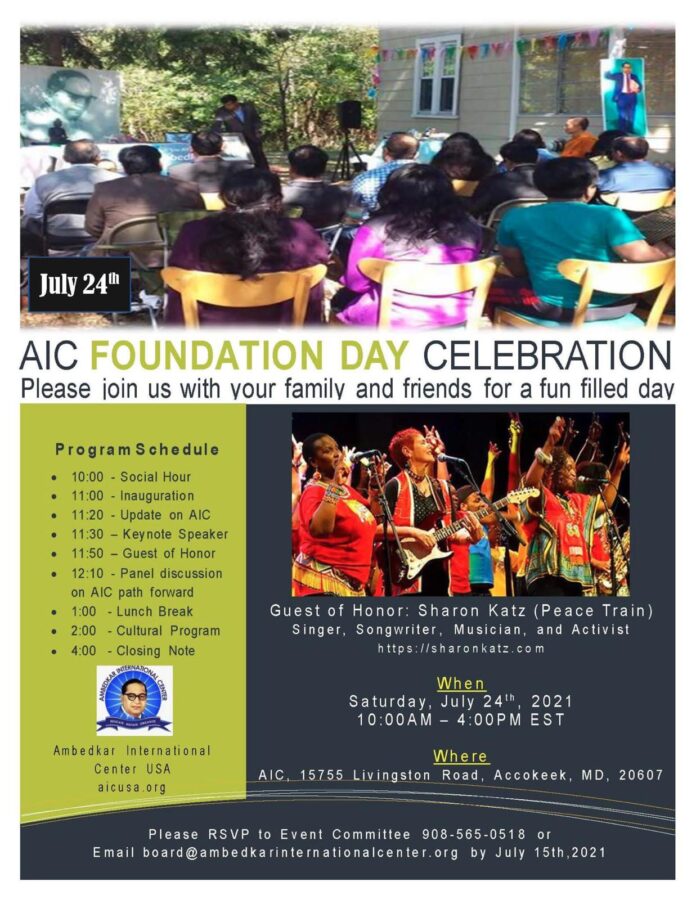 AIC Foundation Day Celebration – July 24, 2021
JaiBheem, Dear Brothers and Sisters in Ambedkar Mission,
Celebration of 8th AIC foundation day is significantly important in the current situation that provides an incredible opportunity to look back and reflect on our journey as well as strategies collectively to ensure we drive the Ambedkar mission to see results in our lifetime.
It is also the time to acknowledge those dedicated, passionate and selfless Ambedkarites from the US who came together, motivated each other and dreamt of having an Ambedkar International Center in the land of the US by buying 13 acres of land at prime location near Washington DC.
It gives us immense pleasure to host AIC foundation day with all committed Ambedkarites who tirelessly offer their precious time, money, efforts and wisdom to carry on AIC's mission. Please join us with your family and friends for a fun filled day.

When: Saturday July 24, 2021
Time: 10:00AM – 4:00PM EST
RSVP : https://www.evite.com/event/0062IEP2XGL4TEF7EEPL2IHFEZLTZI/host-message/
Program Schedule:
10:00 – Social Hour
11:00 – Inauguration
11:20 – Update on AIC
11:30 – Keynote Speaker
12:00 – Guest of Honor : Sharon Katz (PeaceTrain), singer, songwriter,activist
12:15 – Panel discussion on AIC path forward
01:00 – Lunch Break
02:00 – Cultural Program
04:00 – Closing Note
NOTE: COVID Vaccination for adults MANDATORY for attendance.